I usually fry my perch, however, today I was looking for a healthier alternative.  Wanting the crunch of fried without the fat was a small challenge that I took on and won.  This lite baked version was a perfect blend of flavors and crunch.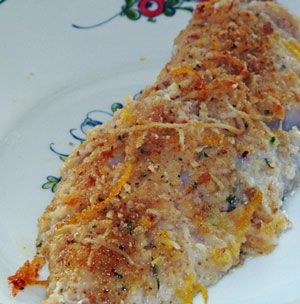 Lay 4 Perch fillets on a plate skin side down and drizzle with olive oil.
On a separate plate add:
zest of one lemon
1/2 cup of fresh grated Parmesan cheese
1/3 cup seasoned bread crumbs
Pat the side of fish with olive oil in the coating.  Place on a lightly oiled baking sheet.  Sprinkle the remaining coating on the fish.
Bake at 425°  for 10-15 minutes depending on the size of your fillets to an internal temperature of 145°.  Do not over cook.  Many do not realize that over cooked fish will have a more "fishy" taste.
I served with a lemon wedge on the side for those that like that extra lemon flavor.
Enjoy.