I wanted a healthy version of the classic oatmeal cookie. After searching the internet I could only find no sugar no flour cookies or the classic full of fat and sugar.  So, I came up with my own version.  The bananas, raisins and the little bit of sugar make them enjoyable even for this sweet tooth.  Hope you enjoy!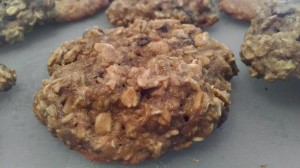 Preheat oven to 350°F
3 med ripe bananas
1/3 cup applesauce
¼ cup milk
1 t vanilla
1 t cinnamon
¼ t nutmeg
1 t baking soda
3 Tablespoons of coconut oil
¾ cup of flour
1/3 cup of sugar
3 cups Oats
½ cup raisins
Add all ingredients except flour, sugar, raisins & oats in mixing bowl. Mix thoroughly on medium speed.  Add remaining 4 ingredients.  Depending on the size of your bananas you may need to add more or less flour.  The mix will not be firm like a regular oatmeal cookie however you should be able to spoon out on pan.  Place on nonstick or lightly oiled cookie sheet.  Bake for 10-12 minutes.
Enjoy