HACCP - Hazard Analysis Critical Control Point
Have you been asked by your local sanitation officer to provide a HACCP plan and you don't know where to start?
Or are you just starting out and need help submitting a plan to your counties planning department?
SMF Training Solutions can help develop a comprehensive HACCP Manual for your facility.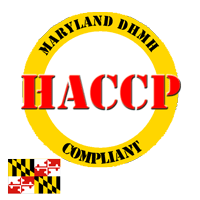 The 7 principles of HACCP
Conduct a Hazard Analysis
Identify Critical Control Points
Establish Critical Limits
Establish Monitoring Procedures
Establish Corrective Actions
Establish Verification Procedures
Record Keeping Procedure
Need to make a payment on your account?
HACCP Plans - Starting at $500
Our HACCP Manual includes sections for:
Employee Training Program
List of Approved Suppliers
Facility Maintenance Plan
Standard Operating Procedures (SOP)
Facility Menu
Hazard Analysis
HACCP Charts
When you hire SMF Training Solutions for HACCP Compliance we work directly with the health department to get your plan approved.
Contact us by phone at 410-382-4325 or by email at smf@SMF-FoodSafetyTraining.com for a quote 410-382-4325
"HACCP is a management system in which food safety is addressed through the analysis and control of biological, chemical, and physical hazards from raw material production, procurement and handling, to manufacturing, distribution and consumption of the finished product." (credit www.fda.gov)