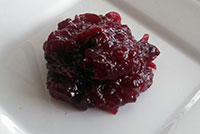 Okay, maybe I am a little behind on this post.  Since I am not the cook at Thanksgiving the cranberry sauce I am served normally comes from a can.  The other day while looking in the refrigerator for sides to go with my roasted chicken I found a bag of cranberries I purchased for Christmas and forgot to use.  The only thing I have ever used fresh cranberries for is table decorations, they are beautiful in a glass vase with a tea candle floating on top.  But I digress, I don't want to waste the little berries, and I do love cranberry anything.  The wheels started moving and making my first batch of Cranberry Sauce began.
The ingredients that I choose came from what I had on hand as it was a cold snowy day in the east and I was not going out for more.  After searching a few recipes, most calling for sugar only and orange juice, I came up with what I would use from what I had on hand.
Here is my list of ingredients:
1 bag cranberries (rinse in water and discard any berries that do not float)
1/4 cup clover honey
3/4 cup white sugar
zest from one lemon
juice from 1/2 lemon
1 cup lingonberry juice (not concentrated but made to directions)
Put everything in a pot and bring to boil then turn down to a hard simmer.  Cooking time is about 10 minutes but refer to the pictures below and you will see when it is done.
After cooked place in a heat safe bowl and cool until able to be refrigerated.  Remember never place anything in the refrigerator over 70 degrees, it will increase the temperature of your unit and food inside.  You can use an ice bath too quickly cool down hot foods.
If you have never heard of Lingonberry Juice you can purchase from IKEA, it is comparable to cranberries.  Being Scandinavian myself I have been enjoying Lingonberry Juice for a while, but now even Dr. Oz  has noticed the little red berries.