Did you know that there is no federal regulation that for zero tolerance of Salmonella and Campylobacter on the chicken you purchase?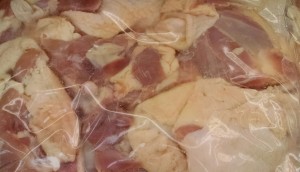 That is right, your chicken could and probably is swimming in potentially harmful bacteria.  There is an initiative to reduce the amounts that are present but feds are not considering a zero tolerance policy at this time.
So how can you prevent these bacteria from wreaking havoc on your customers or family? 
Avoid cross contamination
Do not wash your chicken in a sink.  There is no need to wash chicken. You only increase the chance of spreading these pathogens all over your kitchen especially if you use a spray hose.
If you must rinse chicken place in bowl, filled with water, gently place chicken in bowl. Agitate and drain off water.
Wash your hands
Hand-washing after handling raw chicken with warm or hot water, plenty of soap and vigorous scrubbing will reduce the risk that you transfer pathogens to other surfaces in your kitchen.
Clean and sanitize
Using a good detergent wash areas that the chicken has touched.
Rinse with clean water and then sanitize using an effective solution.
Avoid Temperature abuse
Cook chicken to an internal temperature of 165°F and you will destroy those harmful bacteria. Don't forget to promptly refrigerate foods after cooking to avoid other pathogens from causing problems.