Most if not all major restaurant chains participate in third party inspections on a regular basis.  Why?  Accountability of staff and desire to strive to be the best.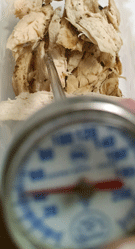 The owner or stockholder must stay informed if they are going to protect their investment.  Costly mistakes in the kitchen can include loss of product or worse a facility outbreak.  A third party inspection provides the owner with a view of how the food handlers are complying with the food safety system in place.  They understand the need for continual improvement and how that translates positively on the bottom line.
I often hear complaints from independent restaurant owners about how hard it is to compete with the big chains and franchises.  I completely understand.  Chains have an advantage.  They have programs in place that provide for a consistent product, on going food safety training, regular maintenance and more.  This allows them a competitive edge.  Lets face it.  Consumers like consistency.
An independent business owner with one or two locations can now compete with the big boys.  It is difficult with all of the other responsibilities of ownership to watch over the kitchen and keep up with new trends in food safety and current regulations.  A third party inspection can arm the owner with the same information as a big chain and give you a competitive edge.    We can inspect your facility, provide a detailed scored report and an action plan for correcting violations and make recommendations to help your facility operate at top compliance.   The best news is we can do this for a very affordable price.  Our first inspection is $195 and provides a complete report.  Depending on the size of your facility and frequency of inspection we will provide you with a quote for future inspections.  There is no obligation beyond the first inspection.
We are confident that as a business owner you will find value in the inspection.  You can contact Susan Farace, CP-FS directly at 410-382-4325 or call the office at 410-687-1015.
Susan Farace, CP-FS is certified as a Certified Professional of Food Safety by the National Environmental Health Association and a Certified Food Safety Trainer by NEHA and ServSafe.