There are 4 common methods of thawing food.  You can place in the refrigerator, in the microwave but you must cook the food immediately after, and as part of the cooking process, or under running water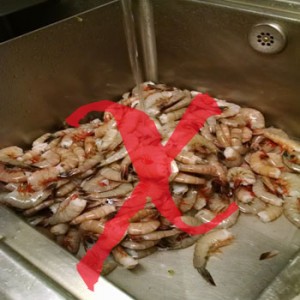 When you are thawing foods under running water you need to follow these simple rules to protect the food from time and temperature abuse;
1. Submerse the product in a pan or bowl. Do not ever place directly in a sink.
2. Have water running over product that has enough flow to constantly change the water in the bowl and agitate loose particles off the food.
3. Water should NEVER exceed 70°F.
4. Do not attempt to thaw items that will take a long time like a whole chicken. Anytime food is 41°F* or above for more than 4 hours it needs to be discarded. For instance, if the surface of the chicken is above and the inside is still frozen you would need to discard.
*Note, when thawing ROP food the temperature must remain under 38°F.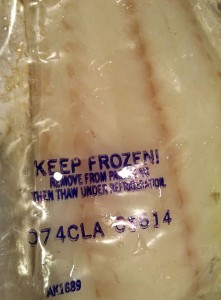 When thawing fish that are stamped with "Keep Frozen – Remove from packaging then thaw under refrigeration" there is a risk of clostridium botulinum, a very serious and potentially deadly bacteria. It is important that proper thawing take place. FDA Food Code 3-501.13(E) states that: REDUCED OXYGEN PACKAGED FISH that bears a label
indicating that it is to be kept frozen until time of use shall be
removed from the reduced oxygen environment:
(1) Prior to its thawing under refrigeration as specified in
(A) of this section; or
(2) Prior to, or Immediately upon completion of, its thawing
using procedures specified in (B) [discussed above] of this section.
The best method to use would be remove the product from packaging when frozen and place in the refrigeration.  Alternatively, you can thaw under running water as discussed above but the product must be removed from the package the moment it is thawed.
FDA Code 3-501.13(A-E)
COMAR 10.15.03.09 D (1-6)