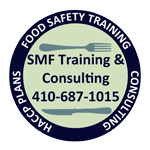 Food Service Manager Training & Consulting for Restaurants and Small Manufacturing
How can we help you protect your brand?
Sue Farace, CP-FS has provided restaurant consulting and the Food Protection Manager training and the ServSafe Manager Level exam since 2009. Our clients range from large corporations to small start-ups and we value each and every one. In addition to our open enrollment classroom training we offer private on-site food safety manager training as well as FOH and BOH staff training.
Comments
I'm very satisfied with this class. Even with my 20+ years in food business, this touch up of knowledge was great. You had amazing teaching strategies and the class was an overall interactive, great experience. Thank you, Claudio Estay -
Claudio , Italian Sensations
---
Very informative as all ways. I felt prepared and confident to pass the test. -
Sharna , Chancellorhealthcare
---