ServSafe® Training and Exam Proctoring
Open Enrollment Classes and Private training
Classroom setting in professional office building. Computer Exam for same day certification.
Two Day Training & Exam
One Day Training & Exam
Accelerated Refresher & Exam
Proctoring of Manager Exam and Alcohol Exams
Group and Private Rates Available
Rates & Schedules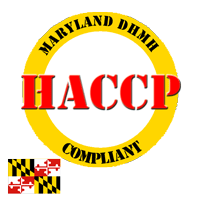 HACCP Plans & Food Safety Management Systems
Call Sue at 410-687-1015 or click to get quote.
Maryland HACCP plans per DHMH guidelines
Complete Food Safety Management Systems
Detailed Standard Operating Procedures (SOP's)
Custom Training Manuals
Custom daily task books (verification)