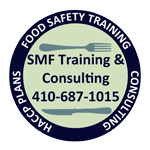 Food Service Manager Training & Consulting for Restaurants and Small Manufacturing
How can we help you protect your brand?
Sue Farace, CP-FS has provided restaurant consulting and the Food Protection Manager training and the ServSafe Manager Level exam since 2009. Our clients range from large corporations to small start-ups and we value each and every one. In addition to our open enrollment classroom training we offer private on-site food safety manager training as well as FOH and BOH staff training.
Comments
The interaction between the instructor and students was superb and simple to understand with real life reference.The way she explained the importance of every topics was simple yet powerful and effective. -
OLUKAYODE AFOLABI, AFC FOOD MART AND CARRY OUT.
---
Very informative as all ways. I felt prepared and confident to pass the test. -
Sharna , Chancellorhealthcare
---
Susan Farace does an excellent job with the ServSafe training. She is so easy to understand, and explains procedures so that students really learn the information. I really appreciate Susan's professional training, and her way of relating the content to real life situations. I look forward to future trainings with Susan!! -
Lisa, Harford County Office on Aging
---
Great refresher course.....I appreciate being updated on new and current Food Safe practices! Thank you! -
Christina,
---
I really enjoyed your class.I learn a lot of information in your class than I did in other classes.Thank you for your time.I passed.Im not a good tester but I survived.Thank you,again -
Joannlovett, CRD Golf LLC
---