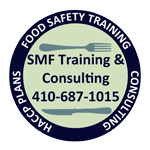 Food Service Manager Training & Consulting for Restaurants and Small Manufacturing
How can we help you protect your brand?
Sue Farace, CP-FS has provided restaurant consulting and the Food Protection Manager training and the ServSafe Manager Level exam since 2009. Our clients range from large corporations to small start-ups and we value each and every one. In addition to our open enrollment classroom training we offer private on-site food safety manager training as well as FOH and BOH staff training.
Comments
Instructor answered any questions that I had and was very clear on everything that she taught us. Definitely prepared us well for the exam and she is a very good teacher. -
Michaela Crue, BrightView Senior Living
---
Sue is a very good instructor. She breaks down the Serv Safe terms into easier terms, so you can understand the concepts better. Also, while you are studying the study guide before attending the class, Sue will answer your e-mailed questions, which helps you to be better prepared for the class day. Sue really wants her students to succeed with Serv Safe. -
Arlene Schisler, S. DiPaula & Sons Seafood, Inc.
---
Your class was informative and you made it fun. This is a new career field for me and you made it easy to learn the theories I'll need to understand before opening my business. I've already referred a few colleagues to you. Thank you for -
Tanisha Olin, Groovy Girl Cupcakes
---