Kroger Co announced in a press release dated October 19th that they will stop selling raw sprouts on October 22, 2012.  I have talked about the risk of sprouts when teaching  ServSafe® Food Manager courses.  Sprouts have a long history of recalls and illness.  In a USA today  article by Elizabeth Weise the following list of recent large recalls were noted:
-April 2012. Clover sprouts linked to infection with an E. coli variant in 29 people infected in 11 states.
-June 2011. Alfalfa sprouts contaminated with salmonella enteritidis sickened 21 people in five states, three of whom required hospitalization.
-May-June 2011. Fenugreek sprouts sickened more than 4,300 people and killed 50 in Europe, the United States and Canada.
-April-July 2011. Alfalfa sprouts and spicy sprout mix were linked to salmonella enteritidis that affected 25 people in five states.
-Nov. 2010-Feb. 2011. "Tiny greens" alfalfa sprouts and "spicy sprouts" sickened 140 people with salmonella in 26 states; 24% are hospitalized.
Of course we can not forget  the largest outbreak linked to sprouts.  Go back to 1996 in Japan, when 6,000 people got sick and 17 died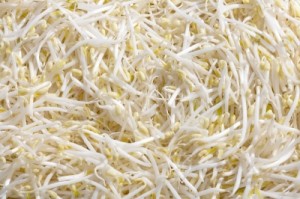 after eating radish sprouts contaminated with E. coli.
Why are sprouts so dangerous? 
It comes down to how they are grown.  In a warm, moist environment.  The same environment that is perfect for the growth of bacteria.  Salmonella and E. coli are the two most common bacteria related to outbreaks.
How can the bacterial growth on sprouts be prevented?
Good question. The simple answer is nothing is working.  Chemical treatment is still ineffective and many sprout proponents do not like the idea of treating sprout seeds and beans with chlorine.  Heat is another method for reducing bacteria.  However, that would terminate the germination process.
Wal-Mart removed sprouts from shelves in 2010 and I believe that more companies will continue to follow suit.
More technical information for retailers and growers can be found on the FDA website.
Krogers Press release can be found here