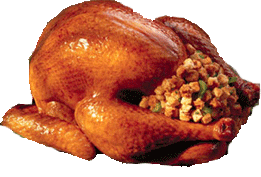 That's right – we are talking stuffing today.
Everyone I know says that their mom makes the best stuffing.  I know I make mine just like my Mother did.  It is a very simple but compliments the traditional meal well.   Staled bread cubed, sage, thyme, parsley, marjoram,  salt and pepper, egg, celery and onion sauteed in butter until translucent,  add as much milk as necessary to make right consistency and that is it!   No oysters, nuts, carrots, mushrooms or anything else.  Oh, and the most important part – WE STUFF!
What is your family tradition when it comes to stuffing?  Please share and join the conversation on Facebook, I would love to hear from you.