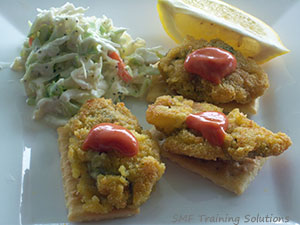 I am a happy girl right now.  Last night I stopped at my local seafood shop and picked up a variety of goodies.  I didn't make the fried oysters last night as I planned and I looked at them all day today.  Temptation got the best of me and I had to have some for lunch.   They are so easy to make I am sure we will be enjoying these little bivalves all fall and winter.
Here is how I make mine.
Drain Oysters, Coat, Rest, Coat and Fry.  That is it!
My coating is a 4:1 mix of corn meal and flour, salt and pepper to taste, a dash of Old Bay and dried parsley.
I find that if you run through egg first the coating is too thick and takes away from the Oysters taste.  I place coating in a shallow pan and place oysters on top. Let set for a minute then turn.  Set for about 5 minutes.  Flip again.
I shallow fry in Extra Virgin Olive Oil with a pat of butter.  The recommended minimum cooking temperature for oysters is 145º.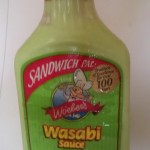 Serve on crackers and top with dollop of cocktail sauce or ketchup mixed with my new favorite sauce, Wasabi Sauce by Woeber Mustard Mfr Co.