Kasel Associated Industries Recalls Nature's Deli Chicken Jerky Dog Treats Because of Possible Salmonella Health Risk
It is important to understand that when humans handle the dog treats and do not properly wash hands they are at risk for Salmonella.  This is very important since often children are given the task of "treating" the dog.  Please make sure you  follow proper handwashing techniques.
Wet hands with 100º water or warmer.
Apply soap.
Scrub hands together vigorously for 10-15 seconds.  Do not forget about the tops of hands and up forearms as well.
Rinse with 100º water or warmer.
Dry with a paper towel. Using a kitchen towel that has been used for multiple purposes is NEVER a good idea.
Here is the details on the recall: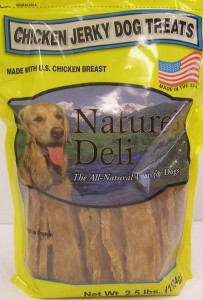 The recalled Chicken Jerky Dog Treats were distributed to 57 Sam's Club locations in the following states: CO,IA,ID,IL,KS,MO,MT,NE,OK,SD,UT and WY.
The product comes in a clear plastic bag with the Nature's Deli logo containing 2.5 lbs chicken jerky marked with UPC bar code 647263800208. Kasel Industries is recalling lot number BEST BY 091913 DEN because this lot code tested positive through analysis by the FDA.
No illnesses have been reported to date in animals or humans in connection with this product.